Picture this: you have adopted a woodland landscaping style with stone pathways and birdhouses for your cozy cabin. In that setting, the outdoor unit of your split AC stands like a literal blot on the landscape.
Quite simply, an AC unit is essential to beat the heat of those hot summer months. While the indoor unit of a stylish air conditioner can enhance the looks of a room, the big bulky outdoor unit can be an eyesore.
If you are wondering how to hide the aircon unit, there is good news. There are at least 24 (that we're aware of!) easy yet very effective ways to do it. In fact, doing it in the right way can improve the aesthetic appeal of your home.
So, let's get down to business.
Pointers to Keep in Mind Before Hiding Air Conditioning Unit
When it comes to hiding the air conditioner unit inside your home, you can use curtains or wall decor. But that is not the case with the outdoor unit.
The most vital thing about the outdoor unit is its location. You see, this is a piece of equipment that needs open space to breathe. And that brings us to the idea of an outdoor unit cover or using other methods of hiding the unit.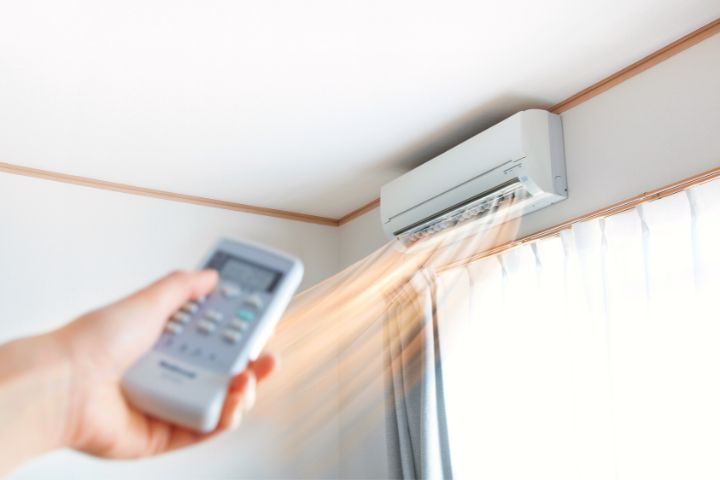 Apart from hiding the unsightly face of your AC, using an outdoor unit cover can help you save energy. Ideally, you need to place the outdoor unit on a north or south-facing wall to protect it from direct sunlight.
In case that is not possible, adding a cover can protect the unit from sunlight and prevent it from heating up. That ensures the compressor and heat exchanger deliver optimum performance and reduce energy expenditure. Additionally, it will also prevent the wear and tear of the unit from the weather conditions.
Here are a few more technical aspects you need to keep in mind before arranging for an outdoor air conditioner cover.
1. Make Sure There's Open Space
The heat exchanger unit needs to dissipate heat to the surroundings in order to cool the refrigerant. This makes it necessary to keep sufficient free space, usually around 2-3 feet, around the unit for proper airflow. Check the manufacturer's guidelines for any specific clearance that has to be maintained around the unit.
Choosing a decorative AC cover that acts as an enclosure and restricts airflow is not a good idea. Planting ornamental grass or flowering trees around the unit can be a good idea. But make sure that the plants do not obstruct the airflow.
2. Maintenance and Repairs
The components of the outdoor unit will also need periodic maintenance. In addition, as per Amendment Two of the Australian/New Zealand Standard (AS/NZS) 3000:2007, a lockable isolating switch needs to be fixed adjacent to the compressor unit. This makes it necessary to keep the unit accessible from all sides. If you choose a cover, make sure that it is removable.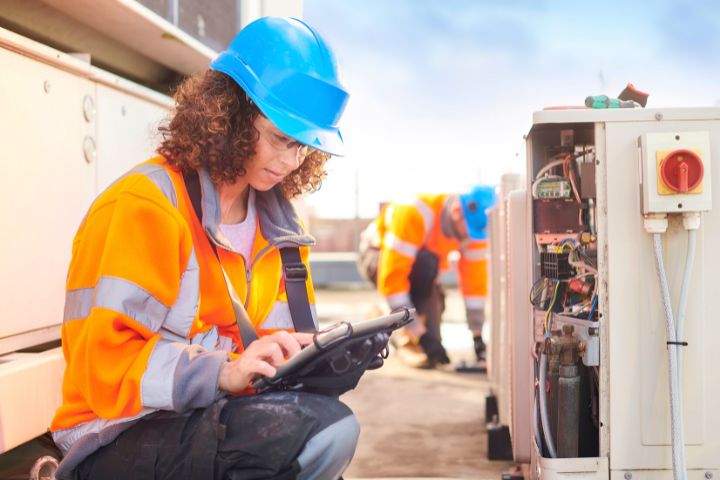 3. Follow Local Codes
Generally, no planning or building approval is needed for installing an AC or an air con cover. However, you may need planning approval if you are shifting the unit or raising it higher than
1.8 m from ground level.
Make sure that the cover arrangement does not go against any local building codes. Installation of an outdoor unit cover arrangement should not disturb the electrical setup for an AC as specified by the manufacturer.
24 Simple Ways to Hide an Aircon Unit
There are various ways to hide the outdoor air conditioner unit. But not all of them are practical and some will take too much time and energy as a DIY effort. We have included the best possible options for you to choose from.
Take a look.
1. A DIY Wooden Outdoor Air Conditioner Cover
There are multiple ways of building a DIY aircon cover or screen by using wooden blocks or panels. The key is to ensure that there is sufficient space between the wooden blocks to ensure proper airflow. The dimensions of the structure will depend on the exact clearance needed around the unit.
The top and bottom of the cover should remain free to ensure proper ventilation. Since this is not a load-bearing structure, you can use heavy-duty adhesive to fix the boards. For improving durability and waterproofing, you can use polyurethane coats or varnish specially formulated for wood.
2. Build a Shade
Building a decorative shade over the outdoor unit will not only improve the aesthetics but also protect it from the elements. As long as the shade is kept at the right height, you need not worry about any obstruction to the airflow around the unit.
The best way is to build a simple wooden frame with a shade on top. However, you can also get more creative and create a complete "AC house". While the latter will take more effort, it will also be an oh-so-clever way to make the act of hiding a delightful attraction.
3. Use Flowers Pots and Planters
Crowding the area around the AC unit with plants may not be a good idea as they can spread into the clearance zone. A better way is to use small flower pots and planter boxes around the unit to camouflage it while keeping the right clearance from the unit. You can even combine it with a fence if needed.
Choose slow-growing species and avoid plants that generate a lot of debris. Also, the plants should be chosen based on whether the area gets sunlight or remains in shade.
Note, it is best not to pick plants with attention-grabbing flowers. Quite simply, you are not looking to turn the area around the unit into a focal point.
4. Set Up a Lattice Enclosure
A lattice enclosure is a great way to hide the outdoor aircon unit without preventing airflow. You can buy lattice panels or make your own lattice frame by using plywood pieces. However, a DIY effort will take some time and you will need to set up a workplace with the right tools.
The other option is to use a trellis to create a screen in front of the unit. A simpler DIY option is to use two T-posts, and then tie poplar sapling twigs, and twine between them. You can strengthen the connections by using zip ties. To make it more eye-catching, drape the trellis with a flowering vine.
5. Shine a Mirror
A strategically placed mirror in the backyard can be a great way to hide and divert attention from the AC unit. In fact, you can also use a mirror in combination with a lattice fence, trellis, and planters.
The angle of the mirror is an important factor and it should point towards the most attractive features in the area. Mirrors with metal or wood backing are not the best option for outdoor use as the materials will degrade. So, either use a protective coating or choose a mirror with a stone or polyurethane frame.
6. Use a Picket Fence
Due to its open design and short height, a picket fence is ideal as an outdoor AC unit cover. Moreover, it also needs less material to construct and is an affordable option. Considering you need to cover only a small area around the unit, setting up a DIY picket fence will not take much time.
Without a doubt, a white picket fence looks great and is a classic charmer. With periodic re-painting, it is sure to last for years. You can even use reclaimed wood to make the fence even more eco-friendly.
7. Add a Bamboo Screen
Bamboo screens are a cost-effective decorative element that can be used outdoors, as well as indoors. They are also available in multiple shades that allow you to match them with the surroundings. Plus, these screens can also act as a shade for the AC outdoor unit. It is best to pick high-quality screens from certified sellers that will last long.
One thing is, bamboo screens are lightweight and may not be able to stand on their own in outdoor conditions. So, you may need to add support beams to keep them standing. The other option is to set up a small fence and then unravel a preassembled bamboo roll over it.
8. Build an Artificial Hedge
Don't have the time to cut or trim a hedge? In that case, using an artificial hedge is a great way to hide the AC unit without much effort. And when you consider that with these hedges, there is no need for trimming, watering, or cleaning up fallen leaves, they are a great investment.
Additionally, these hedges will continue looking fresh and structured for years and there will be no issues with pests either. While buying pick hedges that come with a guarantee. Beyond that, the leaves should be made from UV-resistant materials. That will prevent discolouration within a short period of time.
9. Create a Vertical Garden
Creating a living wall in the form of a vertical garden around the outdoor AC unit is a great idea. For this, you can use hanging baskets, or allow the plants to grow around vertical support like trellises. Another option is to use a screen with built-in slots or floating shelves.
A wide variety of plants including long vines can be used for this garden. If you have limited backyard space, a vertical garden is perfect for adding colour and greenery to the space.
10. Distract the Viewers
One effective way that many landscape designers use to hide a large AC unit in the garden is by distracting the eyes of the viewers. This involves creating a distinct focal point by using a statue or specimen tree.
Another way is to guide the eyes by using straight lines or other continuous shapes like a stone pathway. Naturally, the eyes are drawn to the path and the vegetation around it, and the awkward AC unit is left out of focus.
11. Recycle Old Doors
You might have seen old doors being used to create a boundary between two parts of a backyard. The good news is, old doors can be used as an outdoor air conditioner cover too. Moreover, you can also use the doorposts as support for climbing vines.
While this is a DIY project, it is one of the cheapest ways to hide your AC unit. Besides, the old-world look adds a rustic charm to the space.
12. Build a Rock Wall
The best part about building a rock garden wall is that it does not need concrete footing or mortar. It can be built by using a variety of rocks or bricks and can be 3-4 feet in height. If the AC unit is within a foot of ground level, the wall should effectively hide it from view.
Start by digging a 12-inch-deep trench around the AC unit and then set flat stones inside the trench to create a solid foundation for the wall. Use the less flat stones and smaller rocks to fill the middle area and then finish with another layer of flat stones at the top.
13. Set up a Tool Shed
A tool shed is a multi-purpose solution that will hide the AC unit, and also provide storage space for your garden tools. While wooden sheds have a rustic charm, metal sheds, especially aluminium ones, are better suited for the outdoors. Obviously, the shed should have latticework or built-in vents to ensure proper airflow around the unit.
Tool sheds come in a wide range of styles, and while they are more expensive, they are a practical choice. Make sure to create a strong foundation for the shed so that it can withstand storms.
14. Use Large-leaved Plants
Large-leaved plants add an exotic look to a garden and the lush foliage can hide the AC unit effectively. Plants like Plantain Lily, Japanese Banana, Caladium, and Elephant Ear are some head turners that can add a lot of character to your backyard space. If the unit is in a shaded area, you can also plant some ferns around it.
Not all of these plants will be suited to your environment and the soil type. And some of them can be too big an option for the available space. The good news is many of these plants are super easy to grow and need little attention.
15. Plant Ornamental Grasses
Don't prefer heavy-duty screens to hide the AC unit? In that case, using wispy ornamental grasses is a great way to screen the outdoor AC. Besides, they can also provide shade to the unit.
These grasses come in a wide variety of sizes, ranging from a few inches to a few feet. That allows you to choose according to your space requirements. Some common options are feather reed grass, fountain grass, blue oat grass, and switch grass. You can even plant them in pots to add more texture and volume to the space.
16. Add Decorative Items
The idea of garden decor is not limited to plants but includes a range of other items. These items can be used creatively to hide the AC outdoor unit. Some such items are birdbaths, bird feeders, garden pedestals, sculptures, and garden gnomes. You have to choose the right decor that matches your backyard setting.
17. Build a Cement Wall
A poured wall made from cement or concrete is a great way to keep the AC unit hidden away. The best part is you can choose from numerous design options and can customise the pattern in creative ways. The top of the wall can also be used for setting up small planters.
Even though you would not need a large wall, working with concrete is a tricky business. It is best to get support from an experienced contractor instead of making it a DIY project. That way, you can pick any design of your choice and be assured of the durability of the wall.
18. Create a Mural
Painting a mural on the wall behind the AC unit is a great way to divert attention away from it. The other option is to place a metal or wooden screen in front of the unit and then create the mural on the screen.
Creating a mural can be a great DIY project for the entire family. Not only are they a creative option, murals will add a unique touch to the outdoor space. Even if you lack artistic skills, you can use stencils to get the job done. If you are not confident about freehand painting, you can get help from an artist to get the job done.
19. Make Use of Garden Furniture
Garden furniture is not just for creating sitting spaces. When used in the right way, outdoor furniture can be used to create partitions that can effectively hide the aircon unit. For example, a combination of wooden chairs and side tables with a few potted plants is great for hiding the AC compressor unit.
Another option is to use rope or rattan furniture that has a woven texture. Think of setting a lounge chair in front of the AC unit to keep it out of sight. While outdoor furniture is not cheap, the wide variety of choices allows you to think outside of the box.
20. Create a Private Space
Adding a cosy sitting space in your garden is a great way to relax while being protected from the scorching sun. The best way to do this is to use a pergola and add a garden sofa or two to keep the AC unit out of sight. The open structure of the pergola will also ensure airflow around the unit.
While luxury pergolas can be expensive, simple wooden pergolas are more affordable options. You can also add LED lights to make it a perfect spot for night-time dining.
21. Use Layered Planting
While a single layer of shrubs can affect airflow around an outdoor AC unit, using a layered approach can work better. The first layer can be made from shrubs a few feet away from the unit. You can even use ornamental grasses and sedums to make this layer more attractive. This layer will keep the unit hidden from view.
The next layer can be taller trees that make the arrangement eye-catching. Note, plants that are too tall will upset the visual geometry of the layering. So, pick moderately sized plants that are best suited for your environment.
22. Screen with Arbors and Arches
An arbour with climbing vines growing on it can be an excellent focal point to distract attention from the outdoor aircon unit. Arbours and arches also provide the screening effect that you are looking for.
Additionally, you can place minimalist furniture like a low bamboo table and two chairs in front of the arbour. If you have a small garden space, such an arrangement can also create the illusion of space.
23. Use a Decorative Cover
One of the easiest ways to hide the AC unit is by using an outdoor air conditioner cover. There are plenty of designs and colours that you can choose from. However, do not use plastic covers as this will suffocate the unit. The best options are weather-resistant and breathable fabrics.
It is important to choose the right cover size as a too-tight cover will suffocate the unit. On the other hand, a larger-than-needed cover can become a breeding ground for pests and rodents. You can also use freestanding privacy screens made from wood-inspired PVC. Some of the best outdoor air conditioner covers in Australia are made from aluminium, and have louvred screens.
24. Build a Garden Fountain
A DIY garden fountain made from flower pots, or a galvanised tub is a great way to hide the outdoor AC unit. If you are ready to work through a weekend, you can create some exciting designs by using stone and gravel. You will find most of the items needed in a thrift shop, which makes it a cheap option.
If you recirculate the water, the maintenance requirement for the fountain will be minimal. And the best part is your garden will attract a lot of birds in the dry summers.